---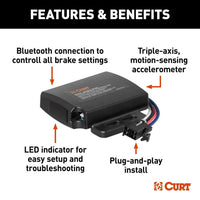 ECHO UNDER-DASH TRAILER BRAKE CONTROLLER, BLUETOOTH SMARTPHONE CONNECTION #51190
Bluetooth connection to control all brake settings from your smartphone
Custom-designed app monitors brake activity and sends status updates
Triple-axis, motion-sensing accelerometer for highly responsive, smooth stops
Stores multiple trailer profiles
Operates 2-8 trailer brakes at a time (1-4 axles)
Multi-color LED indicator for easy setup and troubleshooting
Clear, in-app warning system for voltage recognition and no-brake situations
Downloadable app available for Apple iOS and Android OS
Sleep mode feature included to reduce power drain
Simple installation using included adhesive pad or zip ties
Plug-and-play install with vehicle-specific quick plug harness (sold separately)
Automatic calibration reduces setup requirements
Allows incoming calls to be received while app is running
Compatible with low-volt, PWM, ABS, cruise control and electric over hydraulic
Built-in reverse-polarity and short-circuit protection
Limited lifetime warranty
Notes:
Compatible with Echo manual override button #51189 (sold separately) for hands-free driving
If Bluetooth connection is lost, the brake controller will continue to function safely, using the most recently programmed settings. Not compatible, but will not interfere, with Apple CarPlay or Android Auto.
Warning: Avoid distracted driving. Only make adjustments when the vehicle is stationary.